Warmth and love served with every dish at Alyonka
Authentic Russian Comfort Cuisine
Alyonka Russia Cuisine is a small but mighty restaurant, serving up comforting classics like beef stroganoff, Russian crepes, and Pelmeni dumplings. Everything in our kitchen is made from scratch – with the highest quality ingredients.
Our Food Network Appearance
Experience flavors that wowed Guy Fieri at Diners, Drive-ins, and Dives! Our Pelmeni dumplings and Plov were featured on the show, with Guy raving about our Pelmeni: 'It is so good, and you got to have sour cream on it. This is the best thing I have eaten last year.'
But that's not all – Guy also couldn't get enough of our Plov, saying, 'Great ingredients cooked the right way could produce the right flavor. I am digging around for the lamb; it is my favorite part.' At Alyonka, we take pride in using only the highest quality ingredients and preparing them with care to bring out the best flavors in our authentic Eastern European cuisine.
Don't just take our word for it – watch season 45, episode 12 of Diners, Drive-ins, and Dives to see Guy Fieri's reaction for yourself!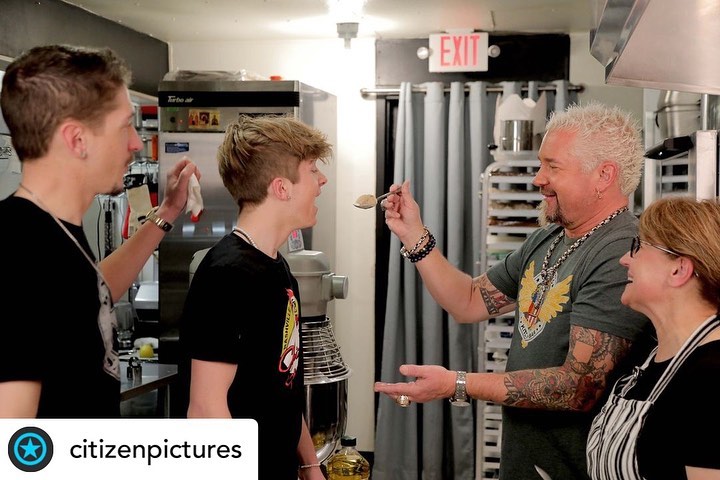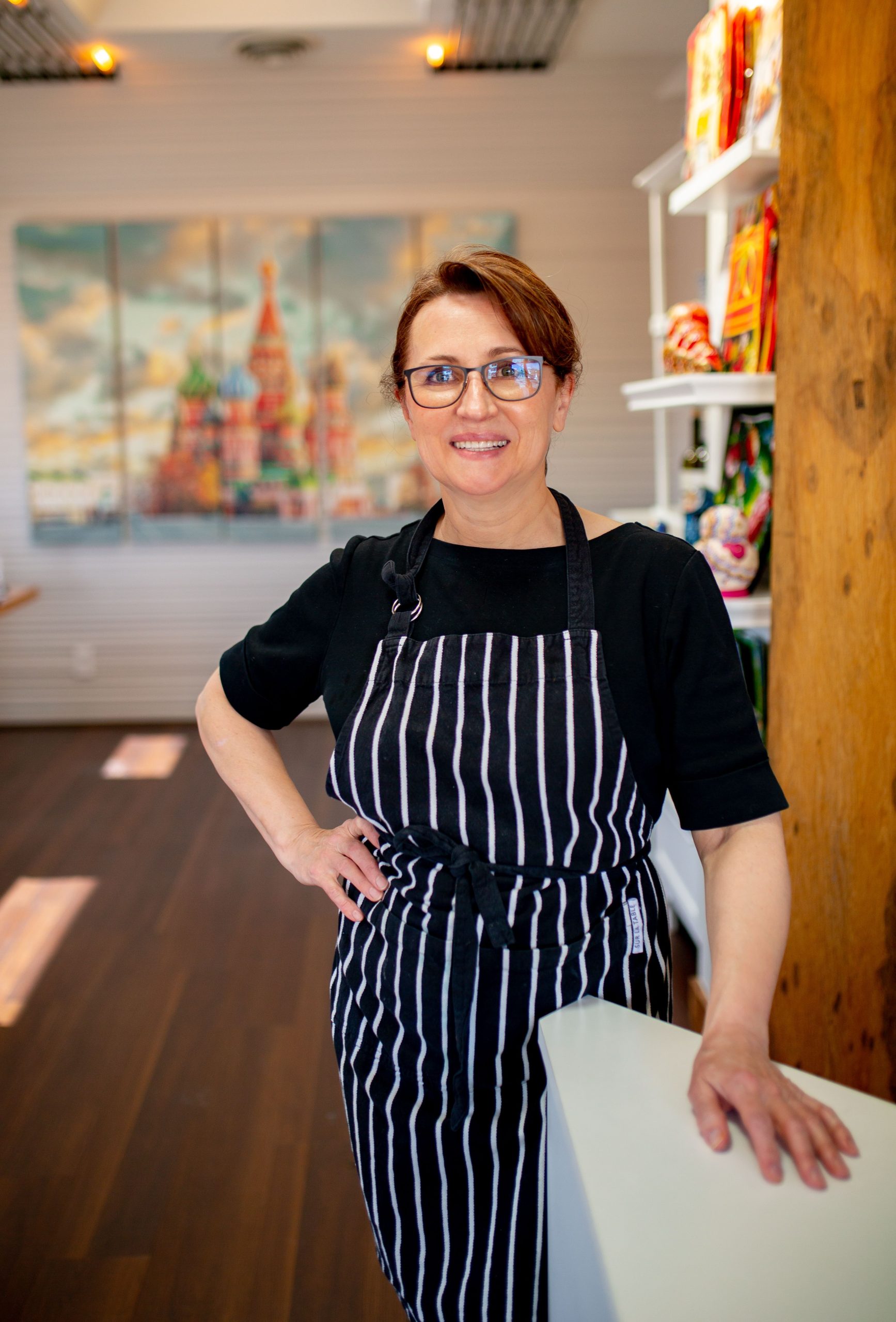 At Alyonka, we're more than just a restaurant – we're a family. Elena DeYoung, affectionately known as Alyonka, born and raised in the former Soviet republic of Kazakhstan, has been sharing her love of authentic Russian cuisine with the Treasure Valley since 2005. As one of the original founders of the Russian Food Festival, she has been delighting visitors with her incredible dishes for years. Her passion for cooking and her commitment to using only the freshest, highest quality ingredients are evident in every bite.
For Elena, cooking is more than just a job – it's a way of life. Her diverse childhood growing up in a multicultural neighborhood inspired her to create a menu that reflects her heritage and the memories of her friends and family. From savory classics like beef stroganoff and pelmeni dumplings to sweet treats like honey cake and pavlova, every dish is made with love and care.
When you step inside Alyonka, you're not just coming to a restaurant – you're entering a world of warmth, comfort, and deliciousness. So come join our family and experience the magic of authentic Russian cuisine. We can't wait to share it with you.
louis david Nicoue (dav)
2023-05-06
By far one of the best restaurants I have been. The staff is very nice our server was awesome and the food was above and beyond what we expected. Thank you guys again, my wife and I will certainly come back.
Food was great, I had never had authentic Russian and it was better than expected. Im a spicy food lover and always expected Russian to be very bland. It was more flavorful than I expected. We had 3 of the main entrees (beef stroganoff, lamb plof, and pelmeni) and shared. The berry hibiscus ice tea was perfect. Not too sweet, just enough honey and berries to sweeten it. The lemon mousse was excellent. The service was great considering the little place was packed. Highly recommended..
Certainly worth a visit. The smoked gouda appetizer was unique. Beef dumplings are good with or without the broth.
Beyond our expectations
Steve Peterson
2023-04-21
We started with the borscht and smoked gouda spread, and both were really good starters. The borscht was thick and full of vegetables, with a subtle beet flavor. The smoked gouda spread was made with gouda, shredded carrots, chopped hard boiled eggs, and mayo, which made it slightly creamy and really flavorful. For our entrees, we had the pelmeni dumplings and the beef stroganoff over egg noodles. Both were really delicious, the portions were large, and we took some of each home, so we'd have room for the delicious looking deserts. The desert didn't disappoint, as my wife and I split the honey cake. The cake was light with a hint of citrus, with a bit of a gingerbread flavor profile as well. For me, this was one of the most delicious cakes I've had in my life, and I've been on this planet for 61 years now. Bottom line is that Alyonka is wonderfully tasty, with the pricing model reflecting the home made food and boutique atmosphere of the restaurant... Not cheap, but you definately get what you pay for... (Mostly - Perhaps $9 for a can of Belgium Ale is a bit much and closer to extorsion than a value, plus, the server just landed the unopened can on the table, didn't pour, etc... For $9, he probably should have steam cleaned the can, opened it, poured it excruciatingly slowly, and maybe even tasted it for freshness!... Seriously, $6, maybe $7, I can get behind, but at $9 per beer, comes to $54 for a six pack. That hurt more than the $28 entrees, $9.5 cup of soup, $16 cheese spread, or the $13 desert slice). Even with the relatively high prices, we'll certainly come back to enjoy the wonderful flavors again... But next time, I get my own piece of cake... Not gonna share with my wife again! 😁
My husband and I took our kids here and literally tried half of the menu and we are both so happy we did! Every single bite literally made me smile. You cannot go wrong with anything on the menu, everything was done so well. We also tried a wine from Georgia that complimented the dishes perfectly! Lastly, I have to mention the service… so attentive and friendly. Definitely coming back the next time we are in Boise!!
We just had to give you guys a try after Triple D's episode! Absolutely amazing food. The dumplings were fantastic and the rice with lamb was superb! Thank you so much for the birthday cakes! We will be back for more! Can't wait to be on the patio soon!
Joshua Szekeres
2023-04-05
Excellent food-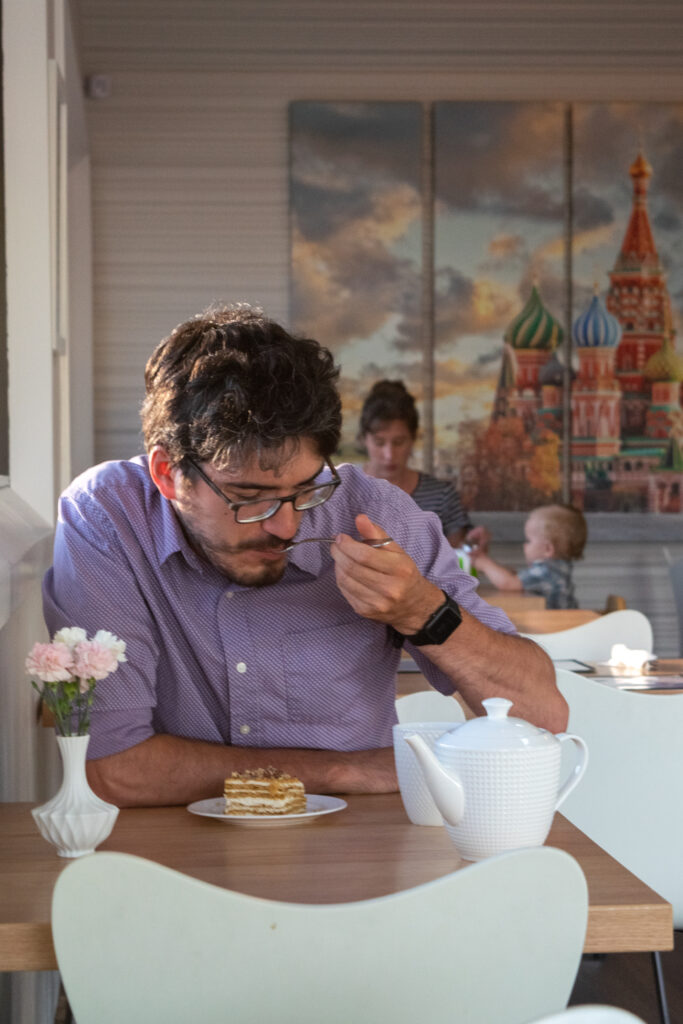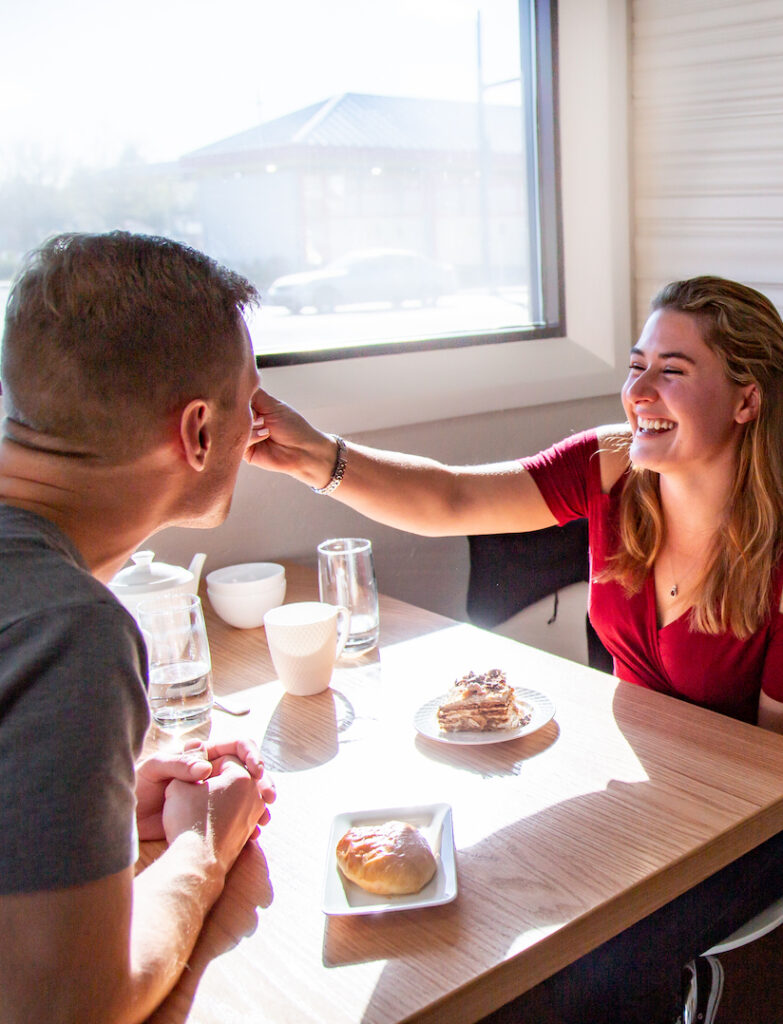 Alyonka is not just about the food – it's about the people. When you visit us, you'll feel right at home among our warm and friendly staff. We're passionate about sharing our authentic cuisine and inviting our customers to be a part of our community. Elena and her team treat every customer like a member of their own family, taking the time to get to know each person and make them feel special.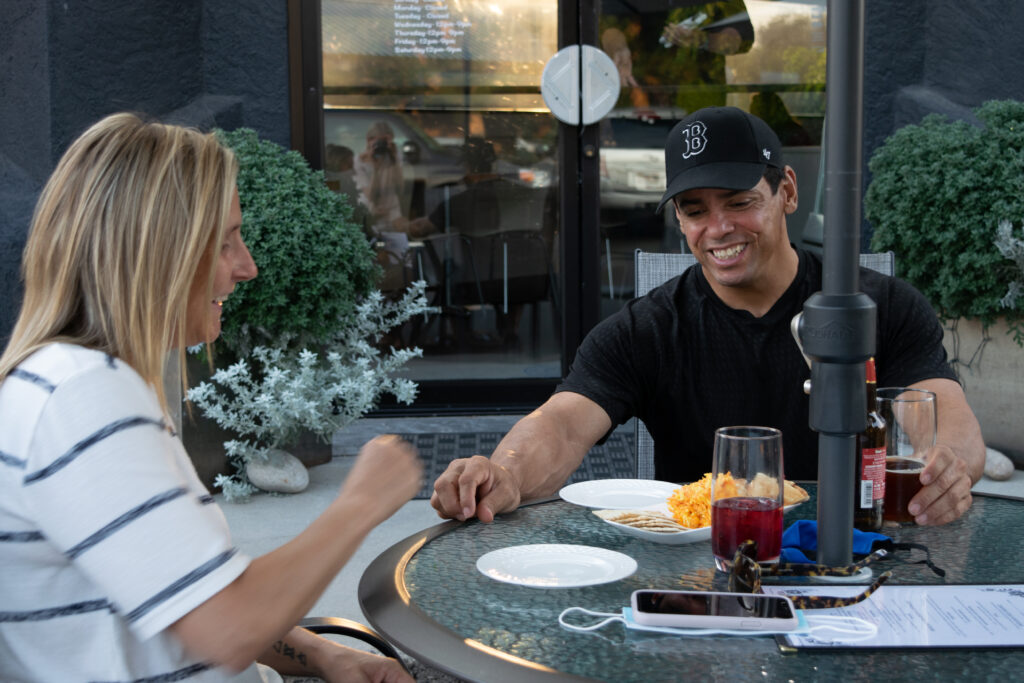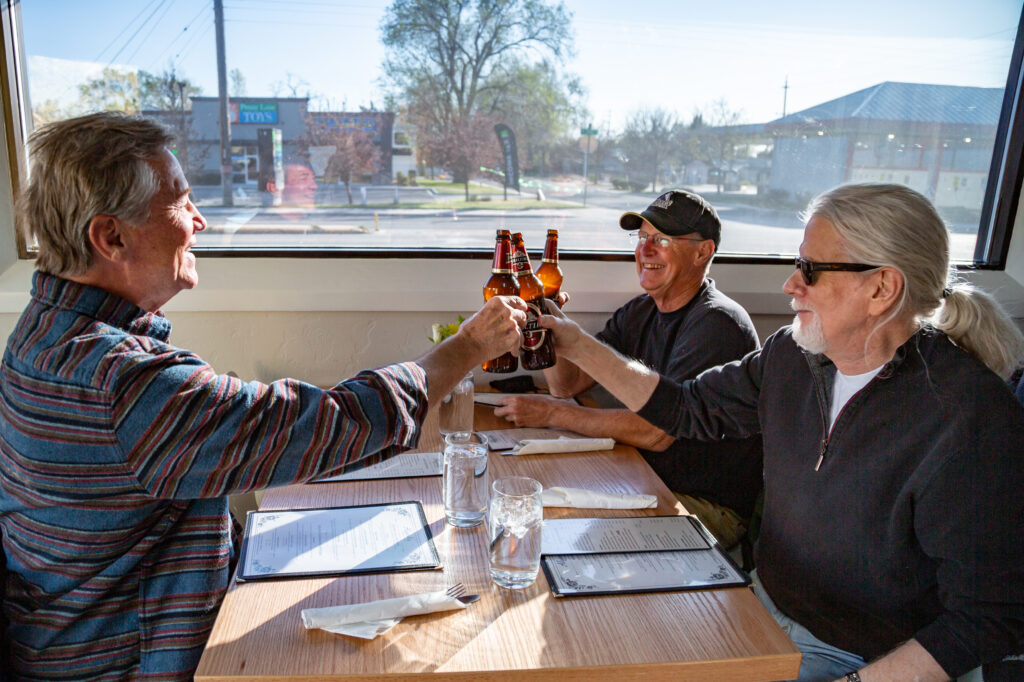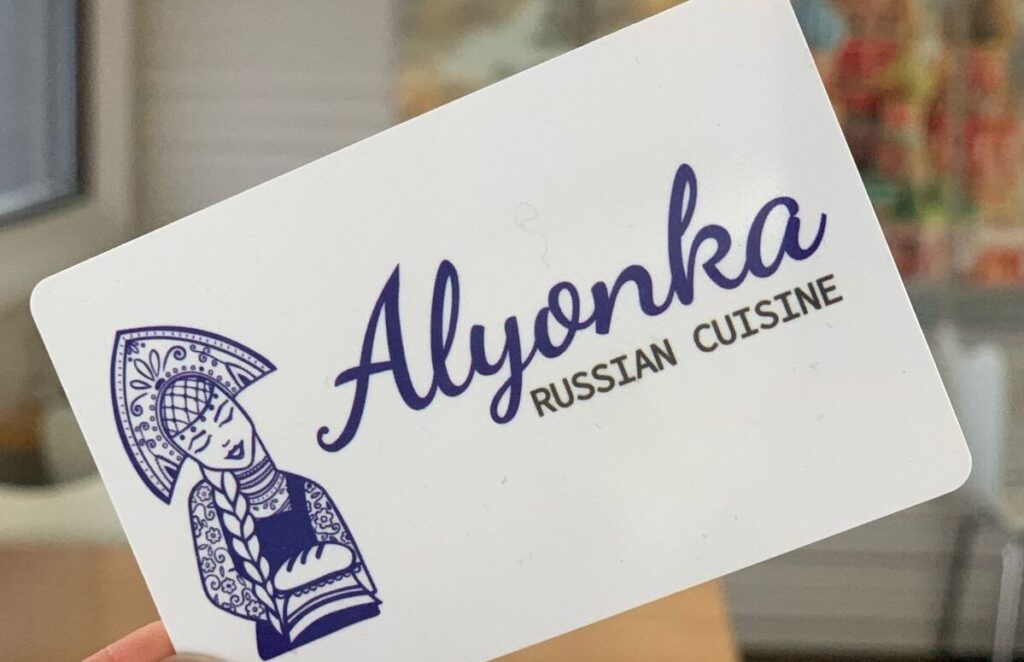 Gift the joy of authentic cuisine and warm hospitality with Alyonka's gift cards! Buy online or visit our restaurant in person. Choose from various denominations and celebrate any occasion effortlessly. Redeemable easily, they never expire.
Alyonka's Family-Style Feast
Take the night off from cooking and order Alyonka's family-style dinner to go! With plenty of delicious food for the whole family, ordering online in advance has never been easier.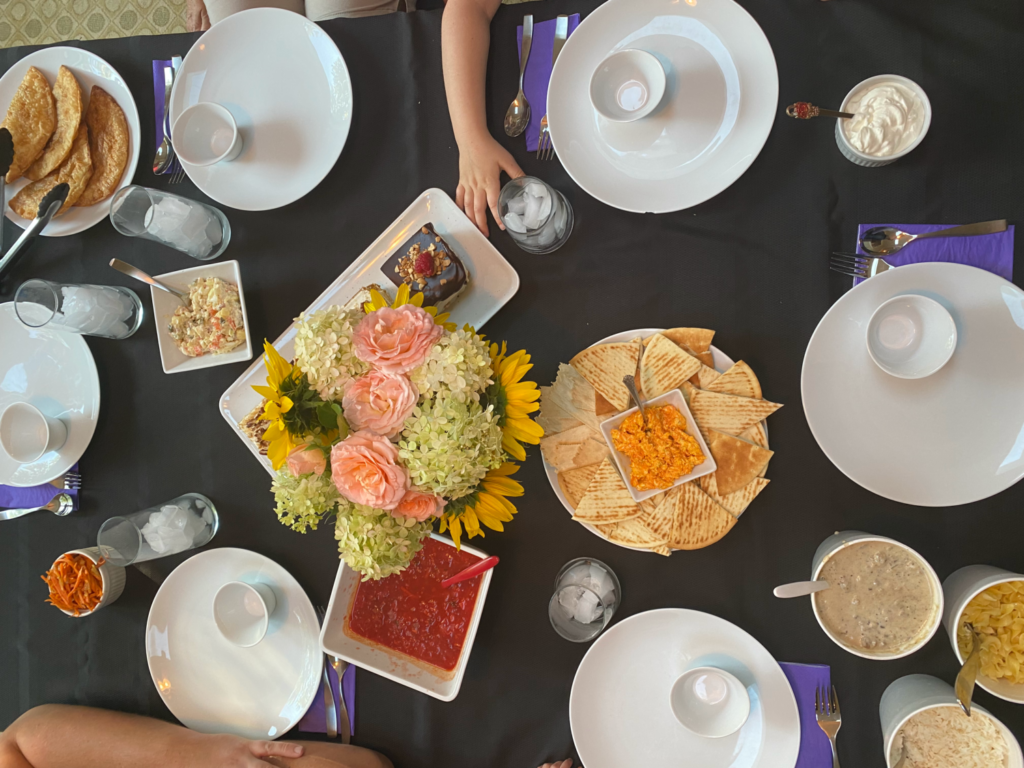 Proudly Serving Award-Winning Cuisine
Due to the intimate size of our restaurant, we highly recommend making a reservation to ensure that you have a table waiting for you. Our cozy dining room features just 9 tables, and on especially busy nights, we may not be able to accommodate walk-ins without reservations. However, we also have a charming outdoor patio with a roof, blankets, and heaters to keep you comfortable in chilly weather. For outdoor seating, we operate on a first-come, first-served basis. So whether you prefer the cozy indoor ambiance or the fresh air of our patio, we have a spot for you at Alyonka.
Give us a call at (208) 344-8996 during our hours of operation to reserve your table and ensure a delightful dining experience
TUE – SAT
12:00pm – 9:00pm
SUN – MON
Closed